What is the definition for flair in relation to soccer? How about:
''An exciting player to watch who plays with a large amount of creativity and style.''
In essence, a player with flair is something of a game-changer. Somebody who is willing to make risky decisions: attempting a killer through ball, doing a clever backheel when under pressure or maybe a move which just completely embarrasses an opposing player.
A nutmeg – or perhaps an audacious overhead flick, like the one that the San Jose Earthquakes' new Portuguese international Yannick Djalo boasted in week six of the current MLS season.
But that is what you tend to see in Major League Soccer.
Moments of sheer creativity and brilliance often derive from those with a Hispanic or European background, or players from South America, who have been entering the league in mass quantities in recent years.
This of course, does not mean that the only flair players in MLS are purely foreign. U.S. internationals Clint Dempsey, Michael Bradley and Graham Zusi are standout players for their respective teams – but the issue is that there do not seem to be enough of them.
The demand for a homegrown, American player who has the vision, creativity and technique to play as a starting No. 10 or as a tricky winger is growing. Yet right now, the numbers show this to be a concern.
Going through all 19 teams, and listing dual nationals as Americans, a rough estimate shows a split of 11 foreigners to eight Americans when it comes to the starter who is regarded as his team's primary playmaker.
Furthermore, MLS release a weekly video show called "Plays of the Night" which shows standout moments outside of goals and saves – the kind of moves that you would associate with the word 'flair.'
If you compile a list of players whose moves are shown in the seven weeks gone by thus far, and removed any instances such as goal line/acrobatic clearances and crunching tackles, it appears that 30 of the plays were made by foreign players in contrast to those from 14 Americans – more than double.
The top three who appear most in the series thus far in 2014 are Dempsey (the solo American in this case), Columbus' midfield maestro Federico Higuain and finally, the one who appears in five of the seven videos, River Plate product and former Argentina U-20 international Mauro Diaz of FC Dallas (pictured above).
A ton of money is invested in the quest for flair, as shown by this trio's place among the league's highest-paid players: Higuain and Dempsey are both Designated Players while Mauro Diaz is a Young DP.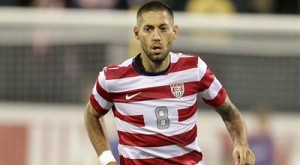 Dempsey is one of the exceptions to the rule. His formative professional years took place in Foxborough, Mass. with the New England Revolution, after college and youth careers with Furman University and Dallas Texans, respectively. Yet his most impactful years as a true attacking outlet/second striker in MLS look to be blossoming now – after a seven-year spell in Europe.
Similarly, Bradley is the main playmaker in Toronto, yet would he have been rewarded that same responsibility had he not developed his technical game overseas in the Eredivisie, Bundesliga, English Premier League and Serie A beforehand? Probably not.
The number of attacking Americans who've earned Designated Player status currently stands at five. Juxtaposed to the 24 foreign attacking DPs, this highlights the disconcerting level of disparity in the USA's premier domestic soccer league at this current stage.
Flair is imported at a far quicker rate than it is being produced and there is little evidence of that changing. Michael Bradley and Clint Dempsey have already returned, raising the question ''Which exciting American player could be coming back next?''
And the rumor mill suggests that the leaue's bevy of upcoming expansion sides will all be investing in foreign DPs, just as new teams have done in years past.
[ +READ: Why USMNT prodigal son Brek Shea must return to MLS – immediately ]
When will we reach the point that a team is built around a talented young American developed solely in MLS? It may never happen, and there are currently only a few examples of clubs who strive to follow such an approach.
With the exceptions of Bradley, Dempsey and Landon Donovan, heads turn to one particular playmaker being produced in MLS, full of inventiveness and consistency and tipped for great things: Dillon Powers of the Colorado Rapids.
Since being drafted 11th in the first round of the 2012 SuperDraft, Powers, a Dallas native and Notre Dame graduate, has been an outstanding performer for the Rapids.
Predominantly playing as a No. 10 in Oscar Pareja's fluid 4-2-3-1 last season, a system more or less continued by new coach Pablo Mastroeni in 2014, Powers was awarded the 2013 Rookie of the Year.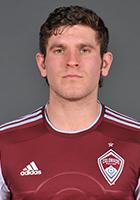 In 2013, he netted five goals and six assists in his first season in professional soccer. Now, aged 23, the rapidly-maturing Powers is finding even greater consistency, dropping deep when required and spraying defense-splitting through balls with consummate ease.
He is an entirely different breed to that of another rising star drawing plaudits in MLS, that being Diego Fagundez. Fagundez is arguably more capable of taking on a man one-on-one, yet his final product, particularly as a playmaker, can let him down.
Powers is proving to be exciting in the sense that he is as technically and tactically astute as other foreign playmakers in the league, yet has combined it with the physical characteristics required to stop him from flaking in matches, or burning out.
So far, he is developing nicely into the prototypical, all-American No. 10 that fans have been desperate to see for so many years.
[ +READ: "You're a little bitter" – The gripes and grins of public salary info in MLS ]
The U.S. Men's National Team is becoming increasingly populated with those plying their trade in MLS. By the time the 2018 World Cup cycle begins, Dempsey will be 35 and Donovan, 36.
This means only more focus and scrutiny in the next few years will be aimed at the current young attacking stars in MLS. Powers, Fagundez and Darlington Nagbe are just three who the limelight will be shined onto.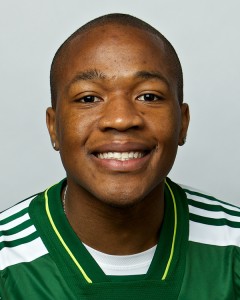 But for that to even happen, head coaches in MLS need to make them the centrepiece of their starting 11s and not ask the GM to scour the globe – and empty their pockets – in pursuit of prospective foreign Designated Players.
Right now, flair is the game of the imports. It's time for MLS to produce far more flamboyant, stylish players of their own, in order to stand out in the global market.
If MLS wants to be one of the top leagues in the world by 2022, then exporting the valuable commodities is just as imperative as importing them.