By Joanna Lohman
Editor's note: Joanna Lohman is an accomplished professional player who has starred for the Washington Freedom and Philadelphia Independence of Women's Pro Soccer, Spanish club RCD Espanyol and the W-League's D.C. United Women. The Silver Spring, Md. native is also the co-founder & executive director of JoLi Academy, a soccer school and women's empowerment organization with programs in several countries around the world.
I had an interesting conversation recently regarding the target audience for the United States' new professional women's league. I was told, as I often am, that our league needs to reach out to the "soccer moms" and their respective children.
I said it then and I will say it again: I am convinced, after significant research, investigation and personal experience, that the "soccer mom" is NOT who we should be marketing to.
With all due respect to her, she is too busy, too distracted, too overloaded and too disinterested in sports to hear our plea.  She just doesn't have the time, energy or desire to come out EVERY weekend to cheer on the team in a passionate and sophisticated manner. Sure, she could bring her screaming daughter and her friends once or twice a season – but you don't build a team or a league on people who come once or twice a season.
So now that I am asking our league to wave goodbye to suburbia and the single-family home with the white picket fence, where do we turn?
We turn to the Rogers Innovation Diffusion Model, conceived by sociology professor Everett Rogers half a century ago. This is the curve the new league needs to pay very special attention to. This is the curve that has propelled Major League Soccer into a legitimate league.
This model explains how an idea becomes a phenomenon. Read Malcolm Gladwell's "The Tipping Point" and listen to Simon Sinke's Ted Talk on "How Great Leaders Inspire Action" and they all reference this model. It is the Law of Diffusion of Innovation. The law. Not the idea. The law.
So, what does this law tell us? It tells us that we DO NOT and SHOULD NOT market to the majority and if you do, you will fail. We market to those who listen, who want to listen and know what they are listening to. We market to those who are innovative and receptive to new ideas.
We do not target those who will purely just buy what we are selling.  We target those who will buy why we are selling it.
Who are those people? Look at MLS as the model. Who are the fans that drive thousands of miles to see their teams play, don the jerseys and lose their voices from screaming?
They are the fanatics – the people who will bring their friends and families to the games. More importantly, those are the people you want to go to a game with. You feel their passion, your sense their dedication, and you tend to embrace the love they have for their team.
This new fan attends every game and experiences every minute of that game. When his team loses, he feels the pain of defeat. When her team wins, she celebrates the glory of victory.
The group will be eclectic – men and women ranging from 21 – 40 years old, both American and international, gay and straight, from all races, ethnicities and walks of life (notice it is not the majority, more like the minority). There will be few, if any, typical "soccer moms." The new fan does not drive "soccer vans." He or she may not own a car at all.
The new fan stays up late and wakes up early to watch soccer matches from all over the globe. She is young, energetic and enthusiastic to soak up life and all that it has to offer.  He is willing to try new things, step out of his comfort zone to not just cheer for a team, but feel as if he is part of the team.
The new fan knows all the players, what clubs they came from, and the numbers on the backs of their jerseys. She does not come to the game because it is an "event," she comes to the game because the game alone is beautiful. There need not be bells, face painting, dunk tanks and bouncy castles. That actually detracts from the worthwhile product – the game on the field. Give them a tailgate, beer sales and 90 minutes of quality soccer and the experience is complete.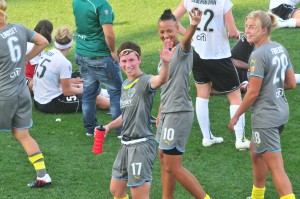 As a player, those are the fans I want to see in our stands. The ones who know the difference between when I play a great game as opposed to a good game. The ones that don't mistake me for Lori Lindsey or Megan Rapinoe (no offense to either of them – its really a compliment) or tell me I played well when I actually didn't play at all. I want the fan who appreciates the nuances of the game and not just the player who scored.
With that said, screaming little kids need not apply. Justin Beiber tickets are waiting for you at home. Come to watch the game and really watch it. The experience is the game and the game is the experience.
That is how you build a league. Don't get me wrong: fanatical fans will not fill an entire stadium (unless you are Seattle) but they drive sales, buy the season tickets and entice all others to join them.
Word of mouth is the most influential form of advertising and thanks to MLS, we already know who will spread our message. Ask for MLS mailing lists, have the women's players tailgate with MLS fans, and capitalize on the economies of scale in an effective manner to fill our stadiums. These relationships need to be built and the connection needs to be made. It is for the benefit of both leagues and their fans.
I am in no way discouraging parents from bringing their kids to the games. We need their support, but the league can no longer build the experience around them. Say goodbye to the balloon animals and hello to the beer gardens. Take care of the core fans that take care of us – give them the adult experience they deserve.
If this new league is going to survive, we need to move beyond the "soccer moms" mentality. Sure, invite them to a game or two – invite their entire soccer clubs – but focus on who matters. Focus on the innovators and the early adopters and THEY will tip the scale.
What this all means for the future of the league:
Stadiums need to be in areas that are reachable by public transport
Cities should be the target location for teams
Every stadium needs to serve alcohol – beer garden
Every team needs or should be associated with an MLS team – economies of scale
I am not telling a story; I am making a case. This new league must be successful or else women's professional soccer in this country will go away forever. I do not want to see that happen. I do not want our league to be the poster child of failure.
I have a dream that the right people will come out to watch "The Beautiful Game played by Beautiful People" — that we, as both skilled athletes and role models, can empower younger generations. So I hope, as the saying goes, the third time will be the charm.