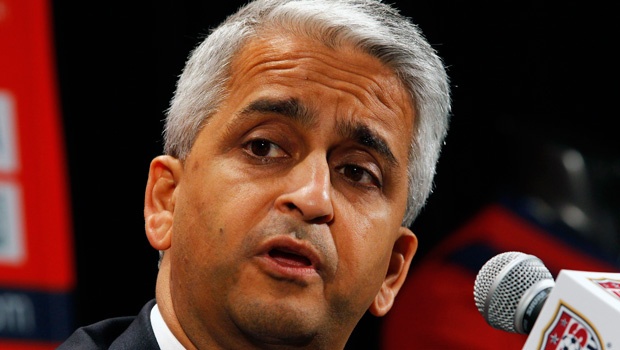 ROCHESTER, N.Y. — The National Women's Soccer League will not expand for 2014 and will stay with its current eight franchises, according to U.S. Soccer Federation president Sunil Gulati.
"On expansion, I don't say slow and steady – I think I'd probably say steady and slow," Gulati said. "Let's get this stabilized. Let's get all the wrinkles out of this system and then we can talk about growth."
Gulati spoke to SoccerWire.com in Rochester on Saturday, after the Western New York Flash beat Sky Blue FC 2-0 and clinched a place in the league's inaugural championship match.
Asked for the number of teams in the NWSL next year, Gulati confirmed eight.
Rumors had been circulating that NWSL was set to expand since FC Kansas City President Brian Budzinski reportedly told defunct website Soccer 365 that five owners' groups had received league financials and prospectus.
"It's a foregone conclusion," the site quoted Budzinski as saying in July. "It's just what the number is."
Asked about discussions with MLS teams interested in expansion franchises, Gulati said for 2014, the only ongoing discussions involve the New York Red Bulls and Sky Blue FC for a "cooperation agreement or merger."
Red Bulls general manager Jerome de Bontin told the New York Times on Friday that Red Bull Arena could host additional games for Sky Blue FC, with the NWSL team becoming a paying tenant. Another option would be buying Sky Blue. Sky Blue President Thomas Hofstetter said a decision on the merger could come as soon as late September, according to the New York Times report. If Sky Blue hosted had hosted a NWSL playoff game this season, the club had planned to play at Red Bull Arena.
Portland Thorns FC, an offshoot of Portland Timbers FC, has been a model team for the NWSL's inaugural season. Average attendance for Thorns home games dwarfs the rest of the league at more than 13,000. The existing co-franchise infrastructure has allowed the Thorns to produce in-house HD-quality streams of all its home games, on a level no other NWSL teams have done.
Gulati cautioned Portland's model may not be able to be replicated, but said there is interest from MLS teams that may turn into expansions in the future.
"We are talking to a number of people. But Portland is unique," he said. "It's not just that it's an MLS team. Portland has got a very unique setup for its MLS team as well. We have a lot of MLS teams that are very envious of what Portland has done on the men's side. While I think it's a good model and Merritt Paulson and his group have done very, very well on both the men's side and the women's side, I'm not sure it's easily transportable, their setup. Certainly having MLS teams involved is something that's possible in the future."
U.S. Soccer founded the NWSL late last year with a new model where the U.S., Canadian and Mexican federations would subsidize members of their national teams that played in the league.
In the long-term, the league will not only improve the quality of women's national team players in the U.S. but help develop the sport generally in America, Gulati said. Before expansion, the league needs to continue to lay the foundation for long-term success, he said.
"The question is how we continue to add to attendance? How do we make the level of play even better? How do we get a lot of the logistics around the league better?" he said. "I think with time, experience and additional resources we'll be able to do all of that."
[+Follow Caitlin Murray on Twitter / Read more articles by Caitlin Murray]