The Prince William Soccer, Inc. (PWSI) Icebreaker drew to a close a little earlier than expected on Sunday, with heavy rain, wintry mix and unseasonably cold temperatures forcing all games scheduled from 11:45 a.m. ET onwards to be cancelled.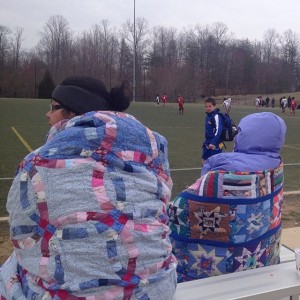 Some may be disappointed at the final outcome, especially those who would have been particularly keen to secure a tournament victory after winning their semifinal earlier in the morning.
However, with matches starting early, the vast majority of teams were able to play the minimum of three games in a tournament widely used as a preseason tune-up before the spring league season gets underway.
It may even be something of a relief for coaches and players to have their weekend cut short slightly, especially given the risk of potential injury or illness when playing in such conditions.
"We would like to thank all of the teams who participated in the tournament this weekend," PWSI executive director Mike Yeatts told SoccerWire.com. "The competition level was fantastic.
"Unfortunately, the conditions deteriorated so much that we felt it was in the best interest of involved if we did not play the afternoon games. We will determine award winners this week and make sure those teams receive the awards that they earned.
"We would also like to thank Sentara's Athletic Trainers and the referees for dealing with brutal conditions all weekend to allow us to play."
Whether the teams who won their semifinals will be declared co-champions of their respective tournaments remains to be seen, but most teams seemed to feel that their preseason preparations were not too adversely affected.
With the PWSI Icebreaker now over for another year, let's take a look back at some of the notable results from Sunday morning's play:
Under-19
In the senior age bracket, the Men's Under-19 tournament concluded with both Frederick FC and PWSI Courage taking 1-0 wins over Loudoun Soccer and SYC Gunners respectively. Chauncy FC of Berlin, Ma. also took a win in the consolation game, beating Fauquier County SC 3-0 at Howison Park.
Under-17
PWSI Courage were also successful in the Boys' U-17 Courage bracket, as their Red team beat Herndon United 1-0. In the other semifinal, Montgomery SC beat Maryland United 3-0, finishing their weekend with a 100% record and not conceding a goal.
In the Pride competition meanwhile, DSC Alliance drew 0-0 with Loudoun Soccer while Monticello United beat PWSI Courage White 1-0.
Under-15
The Boys' Under-15 Courage tournament ended with Loudoun Soccer and Barca Futebole taking 2-1 wins over PWSI Courage and Herndon YS respectively. For both the victorious teams, it was their first wins of the Icebreaker weekend.
Under-14
In the Girls' U-14 Pride bracket, PWSI finished the tournament unbeaten with a 4-0 win over AC Cugini, while Vienna Youth Soccer and Loudoun won their matches 2-0 apiece over Tidewater Sharks and Stafford Area SA.