By Charles Boehm
In the Mid-Atlantic region, usually early-spring soccer events are the ones that have to sweat storm fronts and rainfall levels. But spring and summer arrived well behind schedule this year, which turned out to be a real problem for Virginia Rush SC and their Memorial Day weekend tournament, the Ralph Downey Memorial Classic.
"We got nine inches of rain over nine days," tournament director Sonny Landry told SoccerWire.com this week. "So the fact that we were able to get it all in and we didn't have to shorten halves, I was really happy with that."
Landry and his staff did have to scramble in the final runup to the event, frantically reshuffling the schedule the day before games opened in order to move matches from soaked grass fields onto three synthetic-turf fields. That meant the tourney played out at three different locations, but it was a modest price to pay for the completion of all matches.
"Oh yeah, it was like scheduling roulette," Landry said with a laugh. "Some fields were better than others and we had to move it around a lot on Friday. But it all went well."
Players aged nine through 18 were represented, and Landry said he was impressed by this year's assortment of teams, not only in terms of turnout but also geographic diversity.
"We went up to 115 teams for this one – we got a big boost from last year and we're really pleased with that," he said. "The teams were from all over the East Coast. It was pretty exciting – all the way up from Massachusetts to West Virginia and North Carolina, and anywhere in between."
Saturday brought unseasonably cold conditions, but temperatures rose dramatically on day two – and those who made plans to stay over and experience Virginia's favorite beach town on Memorial Day were rewarded with plenty of sunshine and warmth.
"We got a good reception from the teams that came down. The weather was beautiful on Sunday – on Saturday it was windy, and it was still actually pretty cold," said Landry. "They got some beach time in on Sunday, and most of them stayed until Monday, which is cool."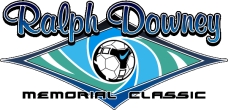 Va. Rush's next major event is the "Fun Fours for Operation Smile," a 4v4 tournament in early September (open to youth teams of many ages and skill levels) which benefits Operation Smile, a worldwide children's medical charity which works to improve the health and lives of children and young adults born with cleft lips, cleft palates and other facial deformities.
[ +Click here to see a full slate of scores and standings from the 2013 Ralph Downey Memorial Classic ]