WASHINGTON – U.S. Men's National Team coach Jurgen Klinsmann headlined an impressive list of political and soccer VIPs in attendance at the first annual "Capital Soccer Classic" at Gallaudet University on Wednesday evening.
The event brought together Congressmen, Capitol Hill staffers and journalists and an array of US soccer stars to play small-sided games, and raise funds and awareness for the U.S. Soccer Foundation's "Soccer for Success" program.
"The game of soccer in this country, you can't stop it. It's growing at all levels, and I guess the most important level is really the grassroots level," Klinsmann told the crowd gathered at Gallaudet's Hotchkiss Field. "Reaching out there, making an appeal to everybody that it's a totally inexpensive game, all you need is a ball – maybe not even a ball, you can give them a can or whatever you want to! – what your foundation is doing is just awesome, and we really appreciate it.
"You have millions of kids playing here now, at a very competitive level but also at a recreational level, and this is just wonderful to see," added the German-American coach, who has lived in Southern California for 15 years. "So our goal now as a national team is break into the top 10 in the world sooner or later, hopefully by next year in Brazil [home of the 2014 World Cup]."
Retired greats Eddie Pope, John Harkes, Claudio Reyna, John O'Brien, Cobi Jones, Tiffany Roberts Sahaydak and Juergen Sommer were the most recognizable figures on hand.
After the evening opened with a clinic put on by D.C. United players for local children, they joined a motley crew of congressmen – members of the bipartisan "Congressional Soccer Caucus" – and journalists for a friendly game loosely organized as Democrats vs. Republicans, but sprinkled with plenty of ringers.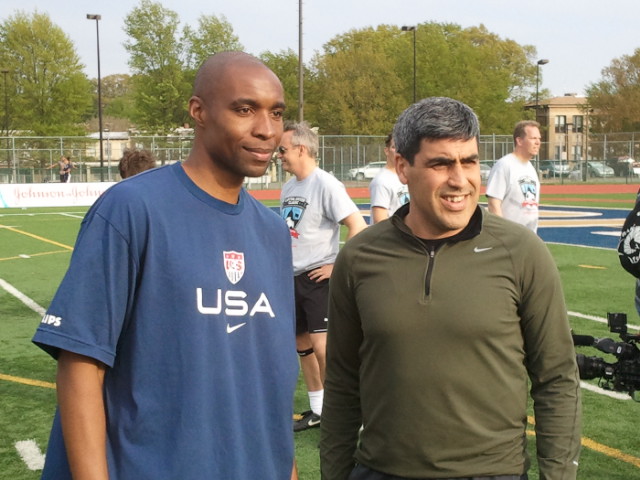 Congressional Soccer Caucus members Reps. Eric Swalwell (D-Calif.), Chris Van Hollen (D-Md.), Mike Doyle (D-Pa.), Ben Ray Lujan (D-N.M.), Mike McIntyre (D-N.C.), Luke Messer (R-Ind.), Jim McDermott (D-Wash.), Adam Smith (D-Wash.), Todd Young (R-Ind.) and Rep. Dave Reichert (R-Wash.) were present, though not all took part in the game.
"I would love to see more political figures be involved and take notice, on the daily basis of the sport, talking MLS, women's league [NWSL], youth tournaments," said Jones.
"If we have politicians paying attention, falling in love with the game, seeing the passion that people have for the game, they're going to realize that not only is it about the sport – this is about establishing international ties, this is about helping younger kids. Soccer is life."
U.S. Soccer Foundation president and CEO Ed Foster-Simeon pointed out the soccer community's commitment to charitable work and urged all present to reach even further in using the game for the greater good.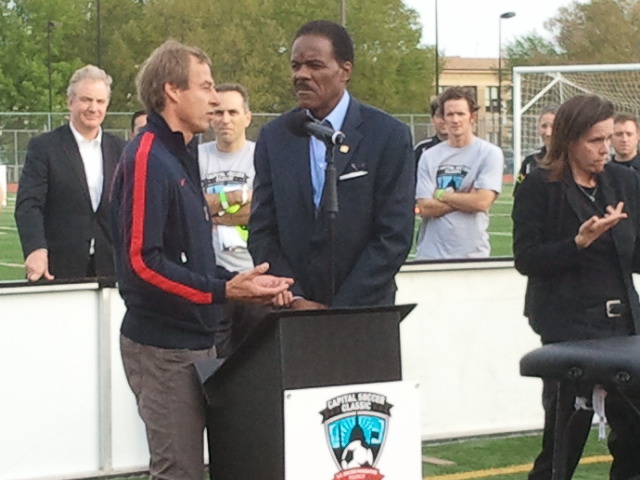 "Youth coaches are one of the most under-utilized national resources we have in this country. Children come running to coaches, because they want to be there and they want to play," he said.
"We need to seek to leverage that opportunity to not only teach the children the game of soccer, but to help them in developing important life skills that they need to be successful."
An afterschool program for youth in urban communities, Soccer for Success uses the beautiful game to fight childhood obesity and promote healthy life habits.
It's one of the U.S. Soccer Foundation's many laudable initiatives and Wednesday's event, scheduled in sync with the organization's Urban Soccer Symposium, gave the politicians in attendance a timely reminder of the game's giving spirit and prominent place in American society.
"We recognize that this is a great event and an opportunity to have fun, but we also recognize the other really important contributions that soccer can make in the lives of our young people," said Van Hollen, co-chair of the Congressional Soccer Caucus, whose son Nick plays at Georgetown University.